Our wedding seemed like a great first post on the new fresh site.  I put a lot of this on Facebook, but I think that it will be great to go through the entire trip for anyone interested in our 4 day Vegas marathon trip.  The small hand drawn images throughout the post are the small pictures that I drew into my journal.  At the end of this post is a small photo album of the trip and wedding.

There are two things that you have to keep in mind throughout this post.  The first is that my parents' 45th wedding anniversary was July 6th 2013, the same day that Debora and I decided to have our wedding.  The second, mainly because it affects us every time we are outside throughout the trip, is that the week that we were in Las Vegas they were experiencing a severe heat wave.  So it was not just desert in July hot, it was desert in July in a heat wave hot!!  The temperature every day, aside from the day we left, was over 120°F.
The trip was Debora, Mom, Dad and I.  Debora and I wanted it to be a small simple trip to just go out and get married.  We did not want a wedding with lots of people, however my mother threatened to disown us if she was not at our wedding.  So a very small wedding in Vegas is what Debora and I decided on doing.
July 3rd, 2013
| | |
| --- | --- |
|  Time |  Event |
|  8:19 am (EST) |  Flight 1077 JetBlue from Boston to Las Vegas |
|  11:03 am (PTZ) |  Scheduled arrival time in Las Vegas |
|  afternoon |  Fill out and pick up Marriage certificate |
We all had slept over my sister (Shelley) & brother-in-law's (Brian) house in Milford the night before we left.  It saved us an hour more of a drive to get into Boston for our early morning flight as well as let us spend the evening playing with my nieces (Avery & Emma).  My Aunt Peggy (mother's sister) gave us a ride into Logan Airport,  she was there bright & early at 5:15am to make sure we got there with plenty of time.
Everyone was very concerned about the drive into Boston on a Wednesday.  However, between the holiday week and having the 4th-of-July being tomorrow the traffic was very light and we got straight into the city with plenty of time to spare.
Between curbside check-in and the light traffic we were at Logon all ready to go at 6:00am for our 8:20am flight.  We grabbed some breakfast at Burger King before going through security.  As we were eating the information screens showed that our flight has been delayed until 9:30am, so we spent some more time outside of security.  And after getting through security and finding out way to our terminal the information screen updated again delaying the flight back again to 10:00am.
We landed in McCarran International Airport around 12:30pm and picked up our luggage.  There was an airport shuttle to take us over to the rental car complex that was away from the airport.  When we stepped outside the heat hit us.  It was like having a hot air dryer engulfing your entire body.  It was so hot it was hard to breath coming out from the air conditioned airport!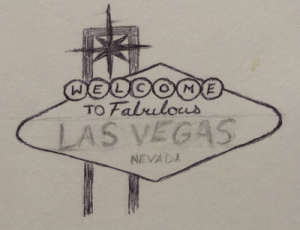 We rented a pretty nice minivan, though I think that the internal area of the van made it very difficult to cool down getting into it from the heat.  We drove from the airport to Hooters for lunch.  We were starved.  It was only around 1:30pm in Vegas but back in Boston it was 4:30pm and we had not eaten since breakfast.
Hooters was really good, it has been a long time since any of us had a chance to eat there.  Fried pickles and buffalo chicken!  We did not leave hungry.  We went back into the heat, we still had some time to kill before we could check into the hotel and we still needed to go downtown to apply for our marriage license.  We had tried to do it online but the site was very poorly made and did not work in safari or firefox.
God, you really only just start getting cooled down when and you are never ready for that heat each time you open the door. The marriage license office is open 365 days a year! We filled out our paperwork and got to wait in a very slow line to get up to the counter. The people there were very nice. We got all the paperwork that we needed and they walked us through the process of what we will do next and what the time frames were for all the papers. These guys are definitely pro's at marriage.
We drove down the strip from the marriage license office, we went by the wedding chapel that we would be getting married in this weekend, Viva Las Vegas Weddings. We were staying at the Luxor Hotel and Casino, the pyramid one. Mom went to check us all in and was able to hustle upgrades for both of us, it is a little scary how good she is at that sometimes. We all went up to our rooms to settle in and rest.
We all meet up to wander around and find some dinner. We walked around the hotel. I have never seen so much inside. But considering what it is like outside, I see whey it is the way that it is. I wouldn't even want to go swimming in this heat. We walked over to the shops at Mandalay Bay. It was not a really big mall, but it was fun to go through all the shops. We ended up having dinner at Slice of Vegas Pizza, I got a meatball sub that was really good.
After dinner Mom & Dad called it a night, we had started out very early and I could not blame them. Debora and I wanted to see a little more Vegas so we went for a walk. Even at night the temperature outside was so hot it was hard to breath. We walked down to Excalibur and then back to the Luxor through the interconnected walkways to stay inside. We headed to the room when we got back to the hotel, we were exhausted also and we were planning on getting up and going first thing tomorrow.
July 4th, 2013
We all got up early to meet for breakfast at the hotels buffet. I have never in my life seen anything like this! The shear amount of choices to eat was staggering. The real supprise was the quality of the food itself. It was very very good and they go through soo much food for soo many people it is impressive to be able to keep the quality so high as they work through that volume of customers with so many options to choose from! We left very full, I do not see anyone being able to find something that they like and enjoying what they find.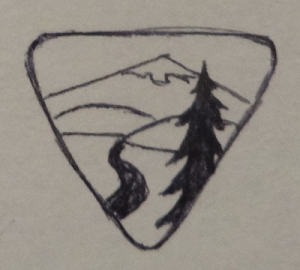 We drove out to Red Rock canyon, trying to beat some of the heat outside.  The park is right outside Vegas, so it is a very short drive, shorter than I would have thought. It is amazing how quickly the city stops and the desert takes over. You drive past that last neighborhood in Vegas and then BAM you are in the middle of the desert with NOTHING around you, nothing for as far away as you can see.
Red Rock Canyon National Conservation Area is very nice. Our first stop was in the gift shop and visitor's center. There was a lot of information about how the park formed over the centuries and the reasoning for the coloration of the rocks there. Debora and I signed the visitor's log book as Mr. & Mrs. Howe, which was fun. We picked up some souvenirs and I managed to find a couple coins from the park to add to my collection. The real find for us, which ended up saving us more than once no the trip was a cooling cloth. It was a small shammy cloth that acted like a swamp cooler (evaporative cooler). As the water in the shammy evaporated, it cooled the shammy which in turn would keep you cool. The shammy would not be of any help in Florida, but in the desert it was perfect.
After we finished our shopping we drive the perimeter road around the park. We stopped a few times for pictures and to get out of the car and walk around a little. The ridiculous heat kept us close to the car and the excursions short. Each time we stopped the walk and the sightseeing was a little shorter, I mean once you have seen a red rock there are only so many variations on that theme that you can see.
On the way back towards the strip we stopped to pick up a necklace to replace the one that Debora had forgotten back home for the wedding.  We stopped at the Downtown vegas sign to take some pictures and continued towards the hotel.  We got in front of Planet Hollywood Deb and I jumped out at a stop light to to for a walk and see a little vegas while Mom & Dad continued on to the hotel.
Debora and I went through the Miracle Mile shops, there was a very funny greeter there who swore she had greeted us before because of my shirt.  From there we went outside to get across the street to the Vegas Harley-Davidson cafe.  I collect poker chips from Harley-Davidson dealers from around the country, have to say the lamest poker chip that I have come across was at the Vegas Harley-Davidson cafe , of course it was the first one that I tried to get from a place that was not a dealership.
We walked outside for a little bit and ended up in a souvenir shop, we wanted to do some shopping and wanted a chance to cool down a little from the crazy heat outside.  As hot an awful as it was outside, the mid-day sun beating you down only made it worse.  The strip has some very strange people walking around on it.  The one that got me the most was the people in the plush costumes that are totally enclosed.  I wanted to pass out just looking at the outfits.
We made it back to the room and spent some time in the room.  We rested, cooled down, showered and got ready for dinner.  Today is the 4th-of-July and Mom scored us reservations at the restaurant at the top of the Stratosphere, Top of the World.

We all meet up and drove to the Stratosphere.  Getting to the elevator takes you through the mall, we found in there a very cool magic store that had the crushed pennies that Debora collects.  When we got to the line to get up the elevator, we were worried!  It was VERY long.  Thankfully we started checking around and found out that it was the line to the observation deck and NOT the line to get to the restaurant (we would have never made our reservations).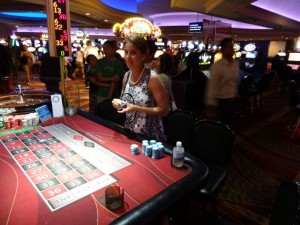 only thing that was better than the food that night was the view.  It was amazing to watch all the fireworks going off for miles and miles around throughout the night will we ate dinner.  After dinner we spent a little time in the casino in the Stratosphere.  Deb hit the roulette table.  I was able to sneak taking this picture of her playing.  They do not allow you to take pictures from inside the cassino.  She was doing very well for a while there.
We drove back to the Luxor.  Deb wanted to play more roulette, but after we walked around a while she did not like the look of any of the tables so we went to bed.
July 5th, 2013
| | |
| --- | --- |
|  Time |  Event |
|  morning |  Head to Hoover Dam |
|  lunch |  Road Kill Grill |
|  evening |  Old town Las Vegas for the Fremont St Experience |
We slept in a bit today. We meet up down in the lobby and decided that after the eating that we did yesterday that there was no need to go to the buffet two days in a row. But we are planning on heading out to the Hoover Dam this morning and we need something in our stomachs before we start that adventure out in the heat, so we went to the next best thing.  McDonalds, which is in the food court in the hotel.  Say what you want about them but I still think they have the best breakfast of any fast food place.
Into the car, the heat was already intense, even this early in the morning.  We stopped at the "Welcome to Fabulous Las Vegas Nevada" sign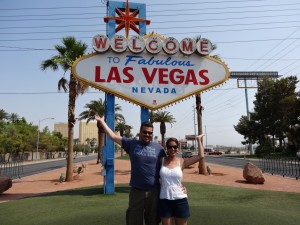 to get pictures.  There was a line, a surprisingly organized line,  of people getting pictures by the sign … I think it was worth the wait to have the picture!
We drove out to Hoover Dam which was not a very long drive from Vegas.  Even with how early we made it out to the Dam, it was very hot and there were a lot of people.  It was too hot for Mom, she headed back to the gift shop to wait for us.  We did not last too long either, some picture, some sights.  We walked halfway across the bridge just to touch Arizona then headed back to meet Mom & Dad in the gift shop.  We got some great coins at the gift shop and Deb found a penny crushing machine to get some souvenir pennies.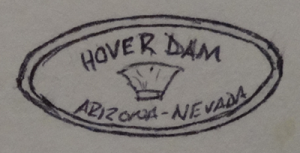 On the drive back we got to see just how lucky we were to have come so early to the Dam.  When we got there we had maybe 5 or 6 cars in front of us to get into the parking area.  Now the line of cars was at least a half mile long.  We hit the drive through at an A&W that was on the way back to Vegas to pick up some fried cheese curds!
We went to The Road Kill Grill in Vegas which was a little hard to find.  It was in the middle of a neighborhood, and not a great looking neighborhood at that!  It was good, but to be honest it was nothing special.  It was a small place with nothing but outside seating and to go served food, not the best place for lunch in the middle of a record breaking heat wave in the desert.  I would take Yankee Smokehouse in Ossipee NH over it any day!
Back to the Luxor, Mom & Dad headed up to the room for a nap and Deb and I changed into our bathing suits to give the pool a try.  It was soo hot in the sun.  The pool was crowded,  and I mean crowded!  We finally found a chair to leave our towels on and a small area of pool that we could both fit it.  We did not stay long, it was just too hot.  Even the water was not much of a relief.  Infact the only relief was getting wet then drying off, it was soo dry out that you dried off quickly and that cooled you down quite a bit.  But, the  second you were dry, you were hot.
After a shower, Deb and I hit the casino while we waited for Mom & Dad.  I wanted to learn how to play roulette, so we practiced on the digital roulette tables.  It was a lot easier to have something that was self paced and allowed Deb to look over my shoulders while I learned what to do.  I was ready to try it on a real table, but by then Mom & Dad were there and we headed out to Old Town!
We parked at the Golden Nugget Hotel & Casino, the valet parking was full, but it was nothing that a $50 bill wasn't able to fix.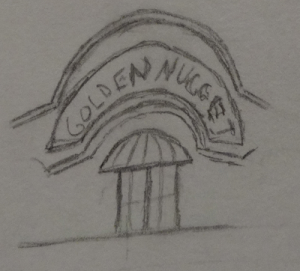 We hit the casino, Mom was playing a Lord of the Rings digital slot and was winning free spin after free spin and ended up sitting there while the game played itself for almost half an hour.  She ended up winning $60 which more than made up for her $50 bill for the parking.  Deb and I did not really like the roulette tables there, so we looked for the electronic roulette, but could not find any there.
The Fremont St Experience was a very fun music and light show that plays every hour from dusk to dawn on the canopy ceiling over Fremont St.  It was fun, it was packed, it lasted about 15 minutes.   After the show we were hungry so we started wandering around Fremont St for some place to eat.
Eventually we ended up at a very nice restaurant inside the Golden Nugget, Grotto.  We all shared some great pizza and a very nice antipasti and calamari.  It was something else.  From the restaurant we could see the pool at the Golden Nugget, which was small (in comparison to the massive pool at the Luxor) but was next to some amazing fish tanks and just a beautiful pool.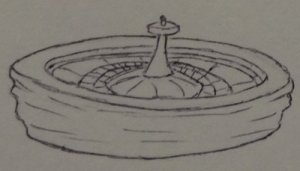 We hung around the Golden Nugget for a while after eating before heading back to the Luxor.  Mom & Dad were pretty tired and headed up to bed.  Debora and I stayed in the casino and headed out to play roulette.  The first table was not very kind to either of us, but the second table ended getting me $76 in chips.  It was getting late so we headed to bed, we had a big day scheduled for tomorrow.
July 6th, 2013
| | |
| --- | --- |
|  Time |  Event |
|  7:00 pm (PTZ) |  Wedding at Viva Las Vegas Wedding Chapel |
|  9:00 pm (PTZ) |  Champagne Dinner Reservations at Eiffel Tower Restaurant in Paris Casino |
We meet up with Mom & Dad in the morning to head over to the Bellagio Hotel & Casino.  The Bellagio has an enormous garden inside it and a very nice restaurant, Cafe Bellagio, that Mom wanted to take us to.  But the line was very long and we were very hungry.  So we walked across the street to the Miracle Mile shops that Deb and I were at two days ago (and that I still had a map and business listing of in my bag).
We ended up at Cheeseburger Las Vegas for breakfast.  They had a great breakfast, really good food and very filling.  We ended up checking out a couple shops that were around us.  A hat store (of course Dad was the only one to get a hat) and a magnet store that we got a couple magnets and some t-shirts in.  On our way out of the mall I noticed a neat kiosk that had coins and poke chips for different sports and teams.  We also saw that you could have custom coins and poker chips made up.  Deb got a custom coin for Matthews football and Mom got some Avery and Emma keychain poker chips.
On our walk back to the Bellagio we stopped to watch the fountains.  The played "Viva Las Vegas" while doing their show, it was awesome!  It was the perfect song, I have always wanted to see the fountains at the Bellagio, but I still have to see them at night.  We drove back to the Luxor for Mom & Debora's hair appointments.  Dad and I headed out to the casino to play electronic roulette.  Debora finished before Mom did and she looked amazing in her veil.  I gave her a $25 chip from last night to bet on the roulette table, she did a single bet on 13, she lost.
Dad and I finished off the money that we had in our machines and headed up to get ready for the wedding.  We all did pictures before going.  It was soo damn hot outside!  We drove down to the Viva Las Vegas chapel and were really early, so we sat in the car for a while enjoying the AC and being very thankful that we did not try to have an outside ceremony.
We went in to do the paper work.  "Elvis" took us through a very brief rehearsal and then it was show time!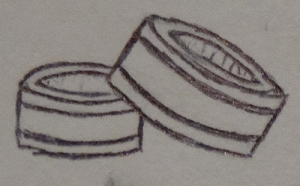 The ceremony was very fast, a little confusing in a few parts, and the most fun I could imagine having at a wedding!  Start to finish the ceremony was 12 minutes long.  We posed for pictures, were driven into the chapel in a pink cadillac, danced to elvis songs, and were driven out in the pink cadillac.  We did all the pictures we wanted to get with elvis and then it was no to the next wedding for them.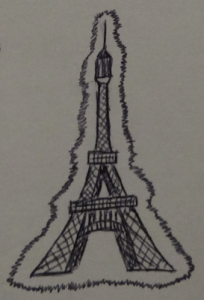 We did not linger long before heading down the strip to Paris Hotel & Casino where we had dinner reservations at the Eiffel Tower Restaurant.  We were early and had just planned on sitting at the bar until it was time for our reservation, but they were able to seat us before our drinks even arrived.  We had an amazing dinner, the beef wellington was the best meal that I have ever had in my life.  Mom had the photographer take pictures of us with our small wedding cake that they had made for us, it was a very nice small two tiered cake.  Dad made a great speech
Dad's Speech
After dinner we walked across the street to watch the fountains in front of the Bellagio.  The fountains at night was the only vegas thing that I absolutely had to see before we left.  They were great, they played "Proud to be an American" during the show, not as great a song as "Viva Las Vegas" but it was something else to watch.  It was really cool walking around, everyone congratulated us on getting married (pretty obvious when you are walking around with a girl with a veil on, which I made her keep on 🙂  )
We drove back to the Luxor, the parking lot was full because of the fight that was going on in town.  It took another $50 to fix that.  Deb and I both did a single $25 chip bet on roulette each, and both lost.  We cashed in our electronic slips from the slots and headed up to bed exhausted and still stuffed from dinner.
July 7th, 2013
| | |
| --- | --- |
|  Time |  Event |
|  9:38 am (PTZ) |  Flight 178 JetBlue from Las Vegas to Boston |
|  5:35 pm (EST) |  Land in Boston |
We got up early, had our coffee and headed downstairs to meet Mom & Dad.  Thankfully we were mostly packed from getting ready yesterday afternoon, so there was not much to do to get out of the room.  It was a short drive to the airport to return the car … found out later that I had left one of my favorite jackets in the back of the rental van.  Took the bus over to the airport terminal, the baggage handers outside were talking about how nice it should be today with the temperature only suppose to get up to 98° today!
We got to watch some crazy thunderstorms roll through the desert over the strip while we waited for the flight.  We all had breakfast at Burger King, even though we all swore we were going to skip breakfast today since we woke up full.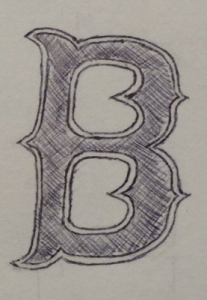 The flight was on time and it was full.  Between the flight time and the time zone changes it was going to be almost 6:00 pm in Boston before we arrived.  The flight was long, but we all slept through most of it.  Peggy was going to be at Logan to meet us and pick us up.
We got our checked bags and our ride from Peggy to Brian & Shelley's house to pick up our cars.  Sunday traffic was nice and light in Boston so it was not a long ride to the house.
We all hung out with Brian, Shelley, Avery and Emma for a while.  We got to watch the wedding video that was online for the first time with everyone.  It had been a long day, we stopped at Wendy's for some dinner on our way back to Jamestown.  We ate and watched some TV before passing out in bed.  No unpacking, no nothing.  What a trip!!